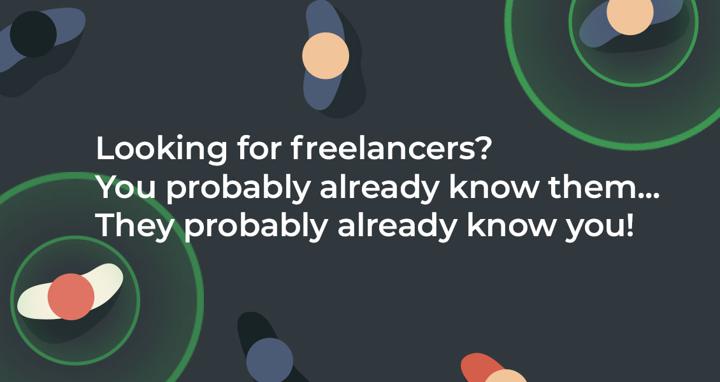 You probably already know them...
Dig deep
...through your inbox. It might take a while, but dig through and find all the old emails that you have and start building your database. Check your old linkedin posts asking for talent, who liked them, who got tagged, in-mailed you, or even pending connection requests.
Ask your team.
Bring your team in, everyone likes to work with people they already know - put out the call. Get department directors on board to encourage participation, explain how this will help reduce spend. Ask everyone to do the deep dive from the first step here. If each team member ads three people you've got a roster 3x deeper as your internal team! Share a spreadsheet or tool (like avails) widely with your team so they can easily contribute, or setup a google form for internal freelance talent recommendations.
Ask your roster
Freelancers tend to know freelancers from working together at other jobs. Have someone currently booked? Ask them. Someone replied saying they're already booked/busy, ask them for a couple leads (if they didn't already include some).
Past job postings
So you paid to post a job on a job board? What did you do with all those hot leads... narrow down to a short list to interview. What about the rest?! Did you capture those leads for future reference? How are you keeping them warm, and their details up to date? Check applicants for previous job postings for similar roles, and add them to your database
They probably already know you!
Enable inbound leads
You have a careers page, but do you have a public email or form where freelancers can let you know they like what you do and want to work for you? This can be as simple as asking IT to setup a new inbox for this purpose, or a google form.
Setup an email address where your team can forward cold outreach emails they receive to so that you capture all the inbound leads. And if you really want to make the talent's day, setup an auto reply saying you've received their info.
"But I just post on Linkedin when I need someone"... Freelancers aren't active on Linkedin as much as they'd like to be. Between the algorithm and too much other stuff in their feed, they may not see the post until days later. At that point they may not reply/respond, assuming it's already been filled - this is another missed lead to add to your roster for next time.
If your wondering what do with all these leads, that's where avails comes in. Book a demo today to see how we can help you optimize your contingent workforce.